How to Style Your Gold Watch for That Casual Event- Tips for Men
5 min read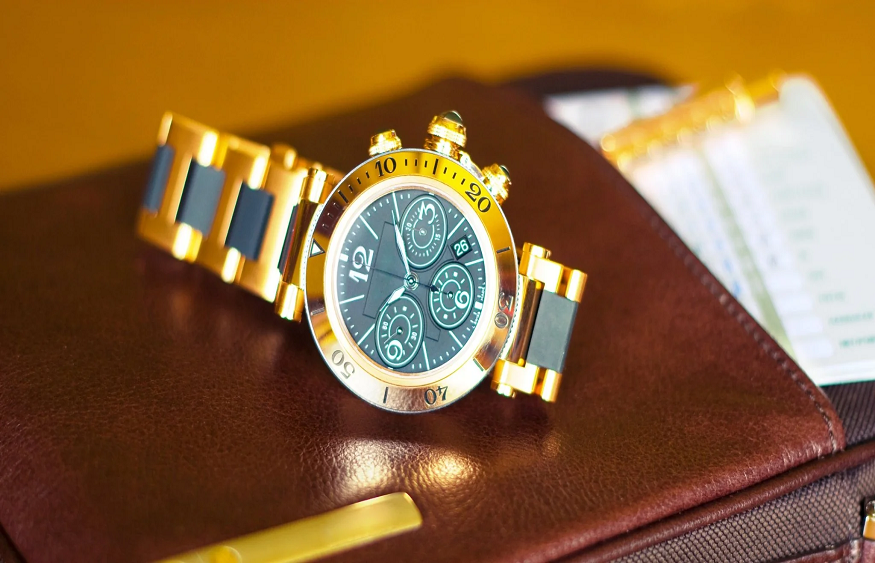 Men and watches are inseparable! When we talk of watches, luxury timepieces make excellent additions to any man's outfit, and gold is worth mentioning. Gold watches have existed for decades and never go out of fashion. They are timeless fashion abettors that can enhance your sense of style and make a statement on different occasions.
However, you should know how to accessorize your watch and where to wear it. Some timepieces are great for formal, while others are ideal for casual events. Are you attending a casual occasion and wondering how to style your gold watch? From denim to stripped shirts and hats, your fashion choices are endless.
 Why choose a gold watch for your casual outfit?
While there are different men's watches in the market, gold is a perfect choice. It will add that stylish appeal and sophistication to your outfit, and you have all the reasons to go for gold. Here is why you should choose a gold watch for your casual outfit;
Elegance
The best watches for men add a touch of elegance and luxury to your outfit. Gold will instantly elevate your overall appearance and is a wise choice. Even in a casual event, a gold watch will showcase your taste and style.
Versatility
Men's gold watches are versatile. They are usually associated with formal occasions but can also complement a casual outfit. Depending on the design, a gold watch can blend well with various casual attires, including denim jeans, t-shirts, and chinos.
Timeless appeal
Gold watches boast that timeless charm that never goes out of style. Unlike other trendy accessories that go out of fashion quickly, a luxury gold watch can remain fashionable for years. You can even pass it to your loved ones across generations.
Attention to detail
Wearing a gold watch demonstrates attention to detail in your overall appearance. It shows that you pay attention to accessories and small touches that enhance your outfit.
Statement piece
Do you want to make a statement with your golden watch? A gold watch can act as a statement piece, drawing attention to your wrist and making eyes turn!
How to style your gold watch with a casual outfit
It's easy to rock that stunning casual attire at any casual event. But your choice of watch matters, and gold is an excellent match. Here are tips for styling your casual wear with a gold timepiece;
1. Simplicity is the trick!
A gold watch is a statement piece. Therefore, be simple and keep your other outfits and accessories understated. Avoid busy patterns or overly flashy clothing that may clash with your watch.
2. Consider complementary colors
Gold blends well with neutral colors like white, black, beige, or navy. They create a balanced backdrop, allowing your watch to stand out and become the focal point.
Wearing complementary colors with a gold watch is a popular styling choice. It will enhance your overall appearance, creating a harmonious look. When paired together, they create a striking, visually appealing contrast.
3. Stick to one metal tone
Stick to one metal tone to ensure a balanced look. You can tastefully mix the metal to incorporate other fashion accessories into your outfit. For instance, a leather strap would suit a classic or dressy casual look. Similarly, a metal or nylon strap would be perfect for a sporty or contemporary feel.
4. Add some bracelets!
Add some bracelets to spruce up your look and create a fashionable touch. Consider the color of your embellishments to ensure a balanced look. Below are bracelets that can layer well with your gold watch;
Leather bracelets: Leather bracelets add a rugged and masculine element to your wrist. Choose a leather bracelet that complements the color of gold of your watch, such as brown or black. The contrasting textures will create an attractive visual contrast.
Beaded bracelets: Beaded bracelets featuring precious stones or wooden beads will add a natural vibe to your wrist. Choose beads that harmonize with the gold tone of your watch, like brown or earthy tones.
Metal cuffs: Go for thin metal cuffs or bangles in the same gold tone as your watch. The cuffs will create a sleek and polished look when paired with a gold timepiece.
5. You can't go wrong with denim!
 Denim jeans suit most casual events and are easy to blend with other fashion accessories. Pairing a gold watch with jeans and a crisp white shirt or a casual button-down will create a relaxed look.
Consider the shade of denim; the color of your jeans will determine how well they pair with your watch. For instance, dark indigo or black jeans look more formal, while lighter washes and distressed jeans have a more casual look. Remember to match the formality of the watch to the jeans for a cohesive look.
6. Tuck in your shirt
Tuck in your shirt, doing this will enhance your appearance, making you appear neater. It will also complement the elegance of a gold watch.
Moreover, your gold watch should be the focal point, and tucking in your shirt prevents the watch from being overshadowed by loose clothing.
7. Choose your shoes wisely
Wear shoes that match the formality of the outfit. Strike a balance between style and formality. Here are your options;
White sneakers- White sneakers are a versatile and timeless choice that fits almost any outfit. They create a classic look that complements your gold watch without overpowering it.
Brown leather loafers- Brown leather loafers are perfect choices for a more refined casual look. They add a touch of sophistication and help maintain a relaxed vibe that works well with your gold watch.
Boat shoes- Boat shoes are a stylish option for casual wear. They are excellent options for summer weather outfits and can complement your gold watch nicely.
Desert boots- These boots create a laid-back yet stylish appearance and pair well with a gold watch. They come in various colors, but tan or light brown would be ideal.
In summary, pairing your gold watch with most casual outfits is easy. You only need to define your appearance and choose the right watch size. Acquire a superior-quality gold watch, and enjoy that stunning look in your next casual event.