Lip Glosses that are Light Years Away from the Old Tacky Ones
4 min read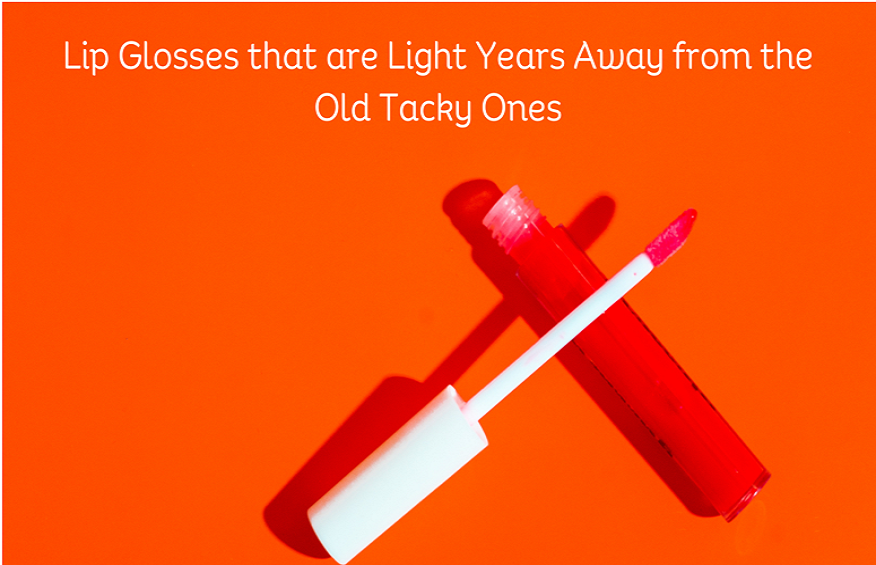 Tired of the same old formula? Looking for something more exciting than the average lip gloss? You're in luck!
Lip glosses have come a long way from their tacky, sticky predecessors. Today's lip glosses are miles apart from their former selves—they're shiny and lightweight, with a non-sticky texture that glides on your lips easily. Just one coat, and your lips feel hydrated and plump. In addition, some lip glosses make your lips appear fuller, smoother, and more kissable. Unbelievable, right?
As exciting as this sounds, choosing a lip gloss that suits you is still somewhat tricky. Here are some things to keep in mind:
Which One to Choose: Lipstick or Lip Gloss?
Lip glosses are the perfect choice to add colour to your lips. Lip gloss is an excellent alternative if you want to add a little shine but want it to be manageable.
It's important to note that lip glosses don't have any wax in them—the texture is entirely different from lipstick. Lipsticks contain wax, so they are smooth and soft, while lip glosses have an oil-based texture that makes them look shiny and wet.
If you like tinted lip balm or lipstick, you can choose one of those instead. However, if you want something more on the sheer side of things, allowing you to select your level of shine, then lip gloss might be for you!
Follow These Simple Steps to Apply Lip Gloss
The lips must be flawless. Therefore, be sure to thoroughly exfoliate before using lip gloss. You can prepare your lips in advance using a damp washcloth or a lip scrub.
Put a small amount of gloss in the centre of your bottom lip.
Now rub your lips together to distribute the lip gloss colours on your lips evenly.
Applying a coat to your bottom lips and pressing them together will give you a dramatic shine.
The final step is to line your lips with a complementary lip liner. And Voila!
Before Purchasing Your First Tinted Lip Gloss, Keep the Following in Mind
Think about the applicator. Yes, we know this may sound nitpicky, but it is true. What kind of applicator you are using has a significant impact. If you dislike the application procedure, the product will likely end up in your vanity bag rather than on your lips.
Stay within budget because this is your first purchase. Budget yourself and stick to it. This means foregoing the high-end retailer and instead taking a chance on the drugstore's high-quality, reasonably priced products.
Establish your priorities. Choose from flat, shimmery, or glittery clothing before you go shopping. It'll be simpler!
Pick lip gloss shades that will go well with your skin tone. For instance, pale pink and peaches will wash you out if you are on the dusky side. However, deep warm reds might be too garish on very fair skin. It's crucial to take your skin's undertone into account as well. Avoid wearing pinks and reds with blue undertones if you have an olive skin tone. No longer does anyone want to resemble a disco ball! However, we do occasionally yearn for a little sheen. 
Do you enjoy touch-ups, or do you find them annoying? Another aspect to consider before purchasing glitter lip glosses is their longevity. You can never go wrong with matte lip gloss in this case.
You should check the SPF! Of course, lips also require protection. It will come in handy the next time you attend a pool party!
Gloss Up Your Lip with These Lip Glosses
Colorbar Diamond Shine Lip Gloss
Use Colorbar Diamond Shine Lip Gloss to add some sparkle to your ensemble. This glossy clear lip gloss provides full-colour coverage and comes with shimmering crystals in each stroke.
L.A. Colors Pout Super Shine Lip Glossin
Today is your lucky day if you've always wanted to own the popular lip colour Uncensored by Fenty Beauty, but your budget didn't allow it. Its low-cost, high-shine counterpart is this gloss. So take it from us; this amazing pink lips gloss is all you need to turn around a potentially bad day. Additionally, it seriously moisturises so that you can skip the lip balm.
Lakme Absolute Spotlight Lip Gloss
Want glitzy, high-shine lips? This is your weapon. When applied, the glossy lip gloss glides on easily and appears to wear incredibly well. In addition, the soft gel-like texture of this liquid lip gloss makes your lips full and plump, making it the ideal date night companion! 
SUGAR Smudge Me Not Lip Duo
Shine bright with crystals that perfectly accentuate your pout! Your lips are enveloped in a delicate, cushiony texture thanks to the gorgeous glass-like finish made possible by the unique light magnifying technology. Keep the moisture in and pout out.
Lip gloss is the ideal way to glam up your everyday look, whether going to a beachside vacation or a pool party. Thanks to the soft, shiny gloss, you will appear to be an Instagram model on the loose. Lip glosses and other face makeup items from Health & Glow are available in a wide range of prices and styles. So grab yourself some must-have lip gloss for your vanity kit!