Pink Lehenga Choli
3 min read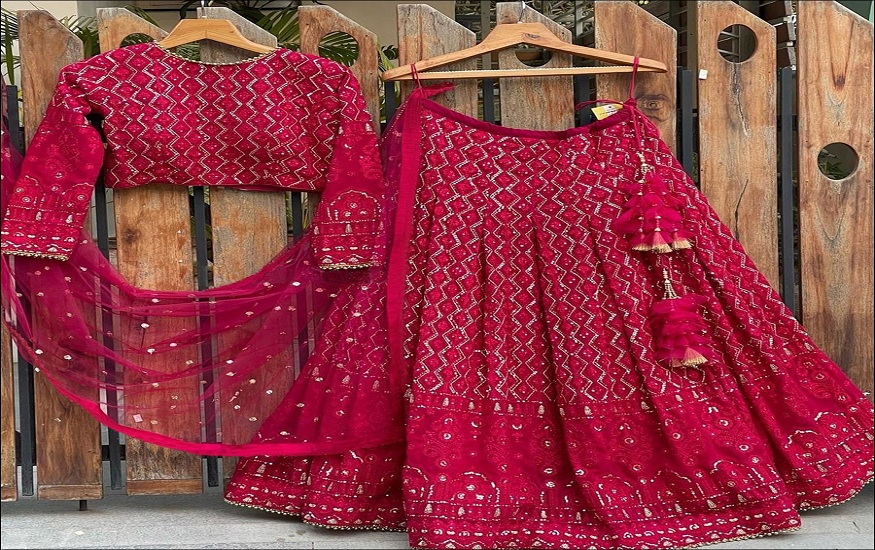 The Lehenga Choli, also known as the Ghagra, is a three-piece outfit usually worn for ceremonial events, festivals, and weddings. Lehengas are long voluminous skirts worn by Indian women all over the world. They are strapped at the waist, leaving the midriff bare. It is typically embroidered, printed, or embellished and is worn with a matching blouse known as a 'choli.' Additionally, the lehenga-choli is worn with a "dupatta," which, depending on how it is draped for the occasion, functions as a sari pallu and covers the midriff and head.
Pink lehenga choli
Lehengas are among the most beautiful Indian ethnic dresses. They look great at any function, festival, or other celebration. Every woman out there adores this outfit. It comes in a variety of colours, including Pink, which is both feminine and adorable. Pink lehengas look graceful and reflect a distinct sense of style. They embody romance, affection, hope, thoughtfulness, and concern.
Pink Lehengas in Different Combinations
Pink lehengas can make you look extremely cute and appealing. Depending on the shade of pink, it can be paired with a variety of colours, to create a stunning contrast. These lehengas are commonly paired with gold, sea green, blue, and black these days. While most of these colour combinations would look lovely, the colour combination is typically a function of the time of day it is meant to be worn, and also the purpose of the event it is being worn for. If the lehenga is light pink, you will notice that it has a dark colour blend, whereas a dark colourlehenga has a light colour blend.
A pink lehenga has a very relaxing, cheerful and positive vibe to it. It can be made in any number of patterns, and styles. Thanks to being worn by a few celebrities at their weddings recently, baby pink lehengas with brocade work have been in great demand, especially for brides. Heavy zardozi embroidery lends the soothing baby pink lehenga a 'heavy' look, and at the same time, the colour itself makes it a perfect choice for day functions.
The simplest and most fundamental way to wear your basic pink lehenga differently is to pair it with a dupatta in a different colour. Additionally, if you've decided to wear two dupattas, you can have one in the same colour as your lehenga and the other in a different shade!
Another way to spice up your basic pink lehenga is to choose a different colour for the top. Choose your favouritecolour scheme, then start killing it!
Pink Lehenga and its Relationship to Skin Tone
Pink lehengas look stunning on any woman. You can do justice to the colour if you choose the right shade.
Pink Spectrum, ballerina pink, and poppy pink for dark skin.
Deep pink, bright pink, and raspberry pink for medium skin.
Light pink, rose pink, pinkish-brown, and raspberry pink for fair skin.
Conclusion
If you're wearing a different colourlehenga but want to add a pop of pink, choose a pink dupatta in a shade that complements or contrasts with your lehenga perfectly! And now you're ready to go!
Pink is used extensively in Indian weddings for its sweet-surreal charm, bewitching vivacity, and joyful feelings. Not only that, but pink is one of the "forever colours" when it comes to bridal gowns or lehengas, and for good reason. Pink lehengas have a charismatic effervescence that makes them one of the most sought-after and loved lehenga hues among brides.
Pink is also a popular choice for brides who don't want to wear red but also don't want to wear unusual colours like greens, blues, and ivory.
FAQ'S
How long does it take to get a lehenga stitched? 
Ans: A lehenga choli dupatta set or a ghagra choli takes at least twenty days to stitch depending on factors such as fabric and embellishments. Because of the attention to detail, hand-stitched, hand-woven lehengas take longer to complete. Often, communities that specialise in designing lehengas are assigned specific tasks as part of the overall production process.
What are some colours that go well with shades of pink? 
Ans: Some basic colours that go well with almost all shades of pink are:
Pastels
Ivory
Beige
Gold or Silver
Mint Green
Ice Blue or Turquoise
Peach or Coral
Red
Orange
Yellow